Presentation
The Saga of Ryzom is a wholly original MMORPG fusing science fiction and fantasy. Ryzom Ring (R²), Ryzom's first and free expansion, evolves the Saga introducing the first ever MMO scenario editor!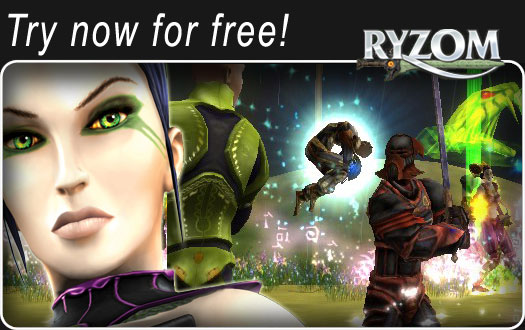 Universe

Planet Atys is a living world, with five rich and diverse ecosystems. A powerful AI technology makes flora and fauna interact dynamically with each other and the ever-changing environment.

Freedom

Choose and fully customize a character from any of the four races of Atys. The skill-based action tree then allows gain experience in fighting, magic, crafting and/or foraging as well as customizing your own spells and special attacks (thousands of possible combinations!).



Roleplay

Your actions influence the story arc. Large-scale events are organized around players' wishes to provide more entertainment.

Consensual PvP

Different types of PvP combat coexist in The Saga of Ryzom, and - since not everyone likes PvP - you can choose whether or not to get involved. If you are looking to engage in players combats, the game offers various possibilities: Duels, GvG, FvF and full PvP.

Community

Available in English, French and German, The Saga of Ryzom enjoys a friendly and mature community. Ensuring good communication between players and developers is a key priority, so both can work hand in hand
News
Monday,17 September , 2007 at 18:00 UTC

And one more year for the young lady that is Atys! Yesterday, September 16th was a day filled with treks, games, and fireworks courtesy of your CSR team. We hope that you all had a fun and entertaining celebration.
Here's a few words from your CSR Team:
"The Arispotle CSR team kicked off the anniversary celebration of Ryzom at 0001 hours GMT with spontaneous fireworks and greeting players.

Although the actual celebration of Arispotle was scheduled for 8PM GMT, the team split up and conducted many fun events prior to the main celebration. For Silan these events included find Avenna's lost mektoub, scavenger hunt, PvP last him standing event in arena, trivia quizes and two special events team run events the Jena Commandments, and the revelations of Ma-Duk. The Mainland events included Mektoub Races, hunt down GM Daestny, Trivia quiz, last Homin standing PvP event in the Matis arena.

The actual event in Almati Wood was attended by an estimated 200+ Homins. We started with opening remarks by SGM Androbia followed by a long fireworks display. GM Daestny gave a rendition of "a tale of reconciliation" to set the tone for peace and cooperation among the players. As soon as that was over we did Trivia quiz in Almati Wood and Silan. Almati events then continued with "Choose The CSR" and scavenger hunt. After about one hour was conducted the happy wedding of Niobe and Pryath, and festivities continued. :)

Post celebration activities continued at a rapid pace until about 0330-0400 GMT on the 17th, with extra attention paid to Silan young Homins. We want to thank everyone for attending the celebration with such a cheerful mood. Thank you for these unforgettable moments!"
Find more screenshots here:
Arispotle -
http://s157.photobucket.com/albums/t56/Gilgameesh/Ryzom/
Aniro -
http://ryzom.wankin.net/?id=./2007-09-17_ryzom_a_trois_ans
Aniro -
http://www.cholle.org/release.html
Leanon -
http://www.elantar.de/galerie/thumbnails.php?album=67
And videos:
Arispotle -
http://forums.ryzom.com/forum/showthread.php?p=418796#post418796
Aniro -
http://forums.ryzom.fr/forum/showthread.php?t=31343
Leanon -
http://www.alterflow.net/downloads/